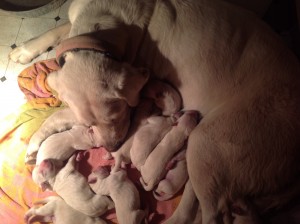 Yesterday, we were blessed with a litter of puppies. We soon found out however, that one of the 11 pups, a male, was not doing well. It wouldn't suckle and it was having a hard time breathing. We noticed that it had an enlarged swollen tongue.
Jessica and I worked with the new born puppy and tried to help it breath. We tried to feed the pup but it couldn't swallow. Our little 9 year old daughter was very sad and immediately started to pray for the little puppy.
I even went to the drastic measure of trying to give the puppy mouth-to-mouth resuscitation. Unfortunately, the puppy didn't make it. Our daughter was going to a birthday party so we decided not to tell her that the puppy had died until after she got home so that she wouldn't be sad during the party.
When she got home, we sat her down and gave her the bad news. She began to sob as so did her mother. Although this was a tough thing for our daughter to go through, I'm grateful we have had this opportunity to help her grow in her faith.
Grow in her faith? But didn't she pray and the puppy still died? Yes. Didn't God not answer her prayers? No, God did answer her prayers. How so? God said no.
Sometimes God says no. He doesn't shield us from every disaster. He doesn't heal every sickness. He doesn't give us everything we ask for. This is because he loves us too much. We would never learn the hard lessons or develop a divine character if everything we ask for was handed to us.
Instead, God sent us here to test us, to try us, to help us learn things we could not learn any other way. The same God who healed the sick, and made the blind see, also lets people go through extremely hard things, for our good.
I testify that God does hear your prayers, and that He loves you. Prayer is not a process in which we seek to change the will of God, but rather a process of us seeking His will, and conforming to it.
He really knows best.
Mosiah 4:9
9 Believe in God; believe that he is, and that he created all things, both in heaven and in earth; believe that he has all wisdom, and all power, both in heaven and in earth; believe that man doth not comprehend all the things which the Lord can comprehend.
In the name of Jesus Christ amen.