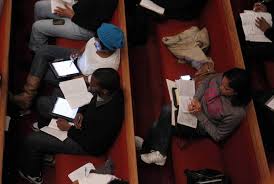 In the 1450's Johann Gutenberg used his printing press to print a Latin version of the Bible (the first book ever printed on the press).   Now the Bible and other books could be reproduced in mass and the good word could get to the people.  Spurring on the protestant reformation, holding priests to account and causing drastic changes the expression of Christianity.
Fast forward to today and the changes continue. Gallup reported that U.S. confidence in organized religion has hit a low point.  Could tech be playing a role in the decline of confidence American's have in organized religion?
Google, Apple, Facebook and Microsoft don't have a hidden agenda when it comes to Christianity, but their technologies are certainly making an impact on it. Today it's easy to download the Bible to your smartphone, or tablet and get different translations, cross references and commentary.  Thin, stylish cases and keyboards for smartphones and tablets allow believers access to the good word wherever they are. The scriptures are more accessible and there are more tools to understand them than ever before.  For some people, this means they no longer choose to rely on their pastor or priest to understand the scriptures. For other's however it only strengthens their tie's with organised religion.
Tiffini Wilcock, a Latter-day-Saint says that it has increased her faith – "Everything is accessible right there. I love it, It's blessed my life!"
Kristy Rhodes, a lay Christian says "I see way too many people using their smartphones and tablets during worship services playing games or doing other things that have nothing to do with church. I keep wishing that everyone would put them away.
Perhaps it's a double edged sword for believers.  Easy access to spiritual material, and easy distractions that can interrupt spirituality.  Zach Burton, another Christian says "Being completely honest, I would say it has hindered my growth. Sure, I have access to all the "tools" on my phone. But do I study (my scriptures) more because of that? Not necessarily.  I was with my kids on Saturday and I took a moment to look around. Half the parents were on their phones and were oblivious to their children. I would say that affects ones "spirituality" more so than reading or not reading scriptures on their smartphone. Isn't the reason we read is to improve? I am guilty. I waste time on my smartphone. I am somewhat shocked that its so hard to admit."
Apparently, technology like money can be used for both positive and negative ends.
But how congregations worship is not the only way technology is changing Christianity.  Social media is being used to create a sense of community like never before.  Church leaders are able to interact with parish and congregation members in their everyday lives, not just on Sunday.
Many congregations are creating special Facebook groups and Google hangouts to not only interact with each other, but to engage in the larger community around them.  "We created a neighborhood Facebook group so we could reach out and create real relationships with people in our neighborhood who don't share our faith" said Joseph, a missionary for his church.  "We wanted to make sure that our neighbors know that even if they don't share our faith, we still want to be great neighbors and friends with them."
Religious conversations are heating up all over social media.  A quick search for "Jesus" on Google plus will produce an almost never-ending stream of conversations about Christianity. Indeed, there is so much faith based conversation in social media that some are calling it the new "burned over district" a reference to the religious scene in the western and central regions of New York in the early 19th century, where religious revivals and Pentecostal movements of the Second Great Awakening took place.
With all of the dialog, Christianity is changing to a more individual faith for some and tighter knit communities of faith for others.
The big tech companies are definitely having an impact.  Much like Gutenberg's printing press, technology will continue to play a role in how Christians worship, study and even interact with other faiths.